RFC Answers
In this page of properties, you will find the answers of the RFC protocol for the comunication of emails, that are used from Caronte Antispam.
In the base configuration, these answers are ready for the use and correctly configured according to the current RFC protocol.
We have permit of edit and configure them as desired, for the simple reason that the RFC protocol can evolve and this could indicate in future number of specific errors and dedicated answers.
As you can notice, the RFC answers contain inside, some special characters as "%s", these special characters are needed for the substitution of the strings according to determinated values.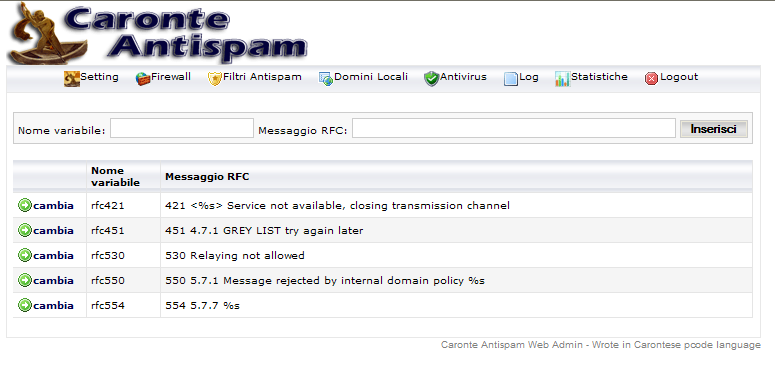 Example:
421 <%s> Service not available, closing transmission channel
(will be inserted the indicated name in "setting" as the protocol indicates)
550 5.7.1 Message rejected by internal domain policy. %s
(will be inserted the internal "policy" with which the message is been refused)
Start project 10-10-2003 - Copyright © 2000-2015 C&G Servizi Web s.rl. All rights reserved. VAT N. : 01404430470 .