LOCAL DOMAINS
Once configured the base properties pages and made the first setting, it's necessary insert one or more local domains to indicate to "Caronte Antispam" what protect and with which features.

Indeed while insert a new domain, we'll have to indicate also which controls apply.
Every checkbox or hotkey, enables or disables the filters option.



From the insertion form, it's possible insert email addresses in the "WHITE , BLACK or SPAMLOVER" lists of the local domain.
So the protection level for the local domain is choosed by checking the various options.
The adjustment of every controls that are based on a score, can be regulate on every single domain more or less aggressive, applying a percentual of adjustment, according to the threshold of the message considered SPAM.
This permits of adjust the inside antispam protection based on domain.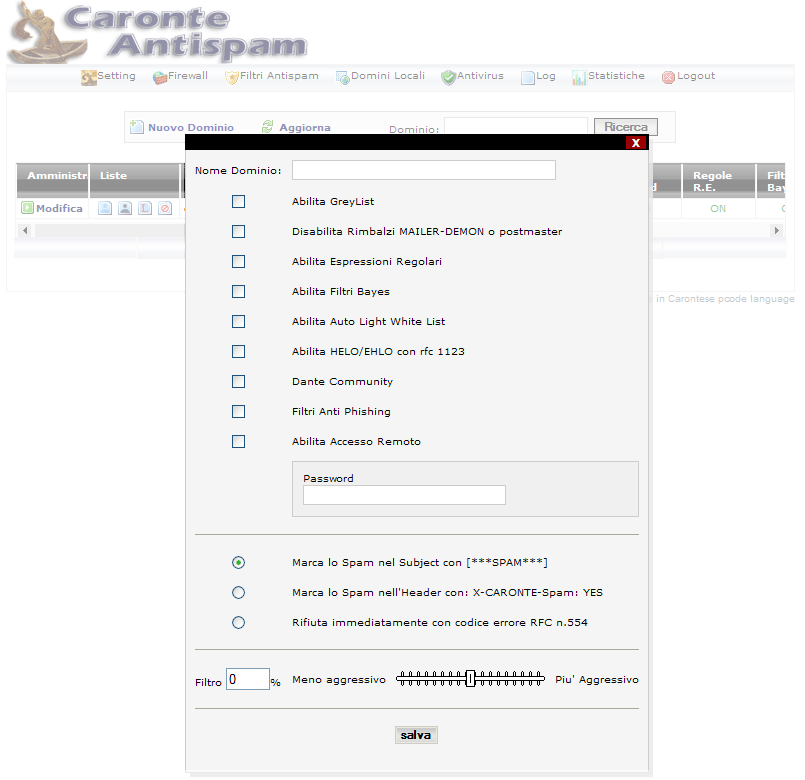 Always from the properties's form of the domain, it's possible to enable the users to the remote control of their "Caronte Antispam" section.
The userid is always the domain name and the password will be generated by yourself and comunicated to the responsible of that domain name.
For the access to the remote configuration, see the "Caronte Antispam PHP Web Admin" client.
Considerations and innovations:
Caronte Antispam doesn't need to manage the users (account) of the domain that you are configuring, (no LDAP, or users database), as such management, remains and will remain still on your cooperative MTA, both in the userid and password than in the name of the account.
All the features of every single DOMAIN are features of property
with the following exclusions:
- DNSBL
- SPF
as such controls happen in the flow of communication Before of having identified the local domain of destination.