Phishing
The phishing email, can't be defined anymore simply spam but a true phenomenon of swindle.
We can say almost with absolute certainty that all of us , at least once, have received an email where ,with curtesy, someone invites us to type in our personal codes of our bank accounts on the Home Banking software or other web systems, only for the simple goal of steal money .
Who has the simple notions of informatic, many times , at first look can understand if the email is true or not. It's true also that ,many times, some PHISHING emails are made in HTML format, obfuscated with particular UTF8 codes and a simple look can't be sufficed, but indeed the technique is always the same ,also the informatic schemes and the architectures ,applied on the creation of the email, link to fluxes from which it's possible to take rules, to integrate in system of verify for control and identify the PHISHING.
With Caronte Antispam we have developed some centralized databases, which identify the PHISHING.
It's possible to enable the automatic update of the databases with the relative control schemes and insert eventual domains subjects to phishing escaped from this feature of Caronte Antispam.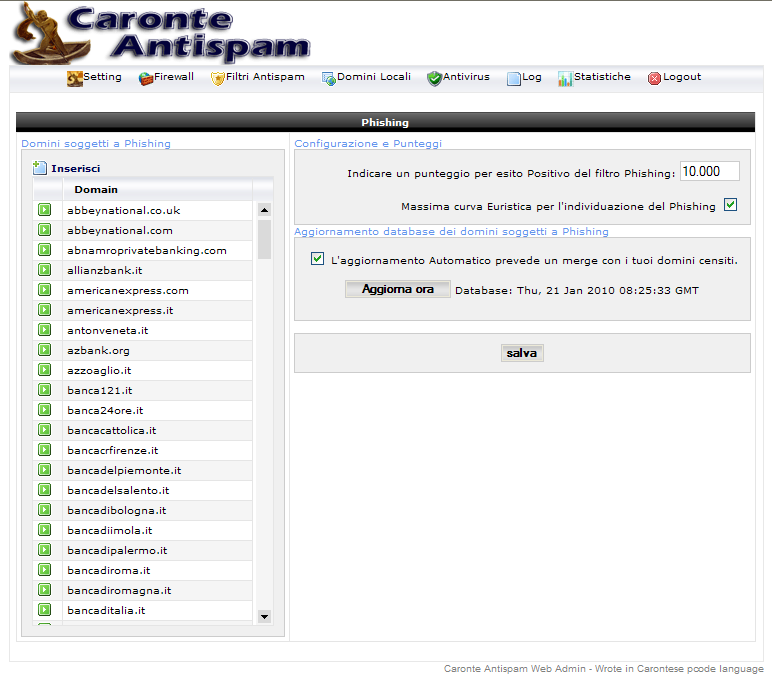 The insertion of own domains doesn't preclude the automatic update, indeed the automatic update expects the match of the two databases.
This ANTIPHISHING procedure, for the moment doesn't have big claim, we have surveyed with success many PHISHING both italian and foreign, but we are all working on the new phishing emails, on keep updated the databases in real time and on develope new controls.