Caronte Antispam Server - NEW RELEASE !!!
Release 3.0.1Download n. 21439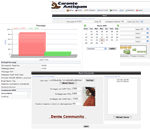 Download

Caronte Antispam has been downloaded in its version n 21439 times
, in his five years career with against spam..
the trial version works for 30 days, with all features available.


Caronte Scripting


Buy a License
Follow the wizard online purchase license CPU / IP Caronte Antispam.
The license is a one off and is valid for the entire existence of the software you installed.


Newsletter Registration
Simply indicating your email you'll receive news about new version of Caronte Antispam

Caronte Antispam Server for Windows, Linux and FreeBSD
It is an innovative smtp proxy Antispam for Windows, Linux and FreeBSD platform, that cooperates with your existing MTA. It will allow you to block spam messages, without heavy elaboration for your server directly on SMTP port.
You don't need to change the configuration on your email software or your informatic system, you only have to install Caronte Antispam on your SMTP server and run it in cooperation with your SMTP service.
Features:
Firewall SMTP (max error,timeout, ip session, noop attack)
MTA server of cooperation in cluster or backup mode
Multy Local Domain
Configuration based on domain level
Configuration based on score fully customizable
DNS BL (ip black list)
White IP
IP embargo
Forged HELO / EHLO
Reverse DNS forged
Bayes Montecarlo algorithm
Dante Community Antispam
Rules based on Regular Expression (ansi PERL)
Email White and Balck List with Regular Expressions to facilitate the similarities
Email Spam Lover
Spam Trap (Honey Pot)
Plug-in Antivirus
Detailed Statistics
Connections monitor
XML Log for an easy elaboration
RFC Answers management
Relay IP management
Control on SMTP Authentication (AUTH LOGIN)
Auto Light White List (control on answer)
Header and subject mark or direct block of messages on SMTP port
API remote control and setting
WEB GUI Administrator e User
Fully customizable configuration
PlugIn
Scripting
Scheduling Job
MTA compatibility total cooperation with: Sendmail, Postfix, hMailServer, Exchange, Mercury, Lotus Notes, Qmail, Wingate,....
Supported platform: Windows Server x64 >= 2008 , Linux (Ubuntu I686 - x64) and FreeBSD [6.3 and 10-x64]